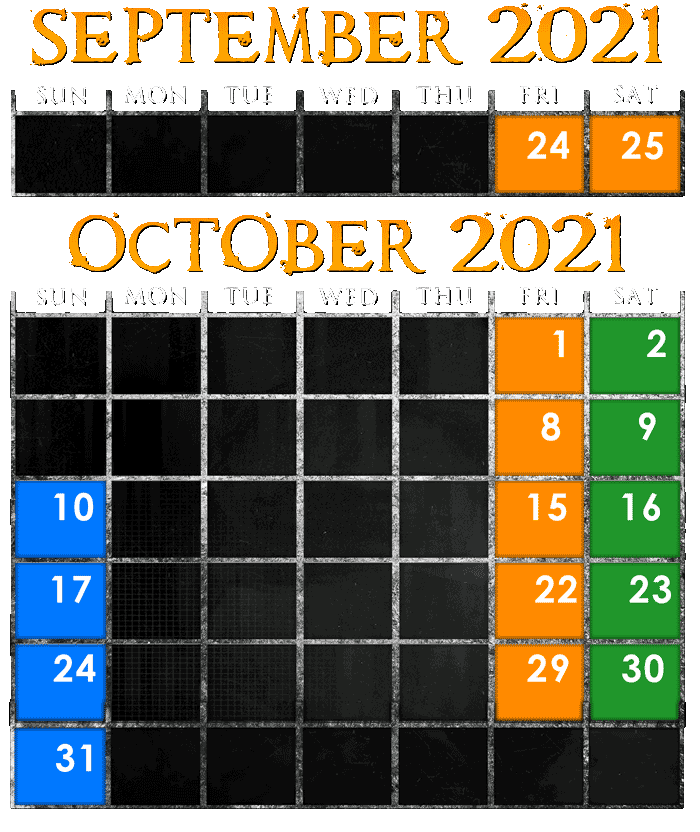 Gates open at 7 PM,
The Field of Screams opens at dark.
EXPERIENCE THIS AMAZING HIGH QUALITY, HIGH OCTANE HAUNTED ATTRACTION!

2021: Tickets will be limited and only sold online. Plan ahead! Reserve your tickets now. Fast Pass tickets will not be available for purchase this year.
Online Tickets:
All online ticket sales will be a timed reservation. You may print your ticket at home or redeem the ticket from your smartphone upon arrival.
You must arrive 30 minutes prior to your assigned reservation time.
Online tickets will be scanned when you redeem them and are valid one time for one person.
There will be a small convenience fee applied to online purchases.
Your timed reservation ticket is an estimated entry time for the event.
On-site Tickets:
Continued Protocol for 2021: No on-site sales. All tickets will be sold online.
Due to Covid-19, the Escape Shacks will be closed for the 2021 season.
Field of Screams Group Discounts: Group prices are available for groups of 25 or more. All groups over 25 can pre-arrange a discount of $2.00 to $5.00 per ticket. Group discounted tickets are available to purchase online or over the phone. Groups must pre-arrange these tickets and they must be purchased prior to event night. Group discounts are not available on peak Saturday nights. E-mail [email protected] for questions.
All ticket sales are final, no refunds.
No Alcohol is permitted on the property.
All attendees will pass through a security checkpoint with metal detection. No Halloween masks, bags, backpacks, knives, guns, or weapons of any kind will be allowed.
Wear appropriate attire. You will be on a working farm. Flip-flops, sandals, or high heels are not recommended. Expect dirt and occasional mud.
Please be aware that some people have strong reactions to the strobe lights and fog. Expect loud noises, tight spaces, and uneven terrain.
Smoking is allowed in designated areas only. NO smoking is allowed in the field.
We do not recommend this event for those who have a heart condition or who are pregnant.
Not recommended for young children. (See FAQ)
Prairie Pines Festivals LLC employs city and county law enforcement nightly.
Inclement Weather Policy: If we are closed due to inclement weather, your timed tickets can be used any other night we are open. Please call if you are unsure of a closing or weather delay. 316-303-2037